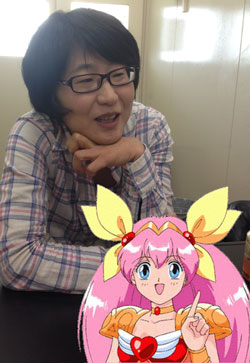 Is there "work for hire" in Japanese comics? Yes and no. Nao Yazawa was hired as the artist for Wedding Peach, a manga published in Shogakukan's Ciao magazine from 1994 to 1996. However, as is typical in Japan, she and writer Sukehiro Tomita co-own the copyright.
In this episode, she explains the details of this arrangement to Tim, along with much more on the development and business of the strip, sexy costumes, why manga creators are left out of the management of the anime adaptation, teaching at a manga school, and more.
Nao's Web comic Go Go Nao-P!
Nao's 2002 Wedding Peach site
See more photos after the jump…
Continue reading #434 Nao Yazawa
Podcast: Play in new window | Download
Subscribe: RSS