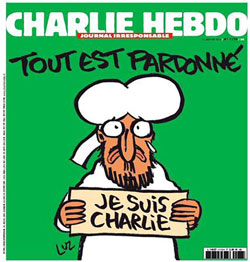 The panel discussion "You can get killed doing this: sketches from the satire biz" was held at the recent MoCCA Fest in New York. The panel discussed the chilling effects on what satirical works get published, and why it's important to keep publishing satire anyway. The blurb in the festival's booklet reads in part: "Can satire survive in a world of trigger warnings and Kalishnikov triggers? Could the National Lampoon be published in a post-Charlie Hebdo world? Is self-censorship the greatest sin of all?" This week we present an excerpt of that discussion.
It was led by Rick Meyerowitz, formerly of National Lampoon, and featured political cartoonist Steve Brodner, former National Lampoon co-editor Sean Kelly, and cartoonist Peter Kuper.
Also: Tim meets up with Mike Seid, Rahsaan Romain, and John Lee at the New York Aspiring Comic Creators Club meetup!
Podcast: Play in new window | Download
Subscribe: RSS