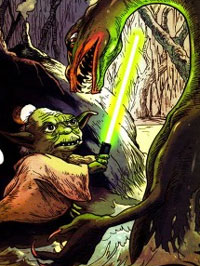 FIVE YEARS of "Deconstructing Comics"! We celebrate with a retro lineup (Tim, Mulele, and Brandon, plus Kumar) discussing the topic that we always used to accidentally end up talking about anyway: Star Wars! Specifically, Dark Horse's Star Wars Tales #20, an issue in which various indie creators took a crack at the Star Wars characters. Especially Jar Jar.
Also, our reactions to the trailer for the Green Lantern movie. Have all these superhero movies run their course?
A fun (if rather ribald and un-p.c.) conversation!
Podcast: Play in new window | Download