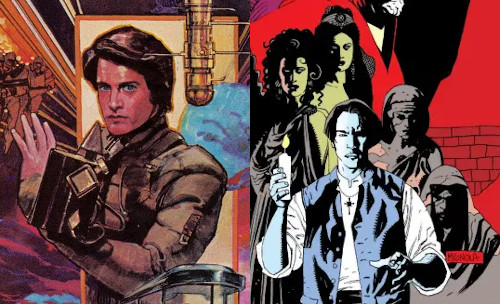 Sometimes comics adaptations of movies can have as much, or more, significance than the films themselves. Marvel's 1984 adaptation of David Lynch's Dune film, for example, marked Bill Sienkiewicz's upgrade from the realistic art he did on Moon Knight, to the mind-blowing, weird work he became known for on New Mutants. It's also arguable that Ralph Macchio's script is better than that of the film.
Likewise, Topps' 1992 adaptation of the Francis Ford Coppola film Bram Stoker's Dracula, written by Roy Thomas, marks a turn for artist Mike Mignola from Batman to more supernatural work, leading straight into his magnum opus, Hellboy.
Kumar and Jordan, patiently awaiting the delayed Australian release of the new Dune film, decided to indulge their obsession by doing this week's episode, discussing both films.
Brought to you by:
Podcast: Play in new window | Download