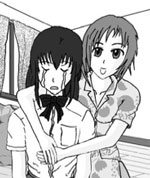 Brian John Mitchell talks about his Kickstarter project to fund the making of his matchbook-sized comics. Two of these books involved a collaboration with Dave Sim!
"Rook Bartly" (US Air Force active duty member Jason) tells us about "Okashi na Futari", the Japanese novel series whose author has hired him to draw a manga version of the story.
Then, Kumar returns to tell us about a couple of his recent manga translation projects, "Stupid Guy Goes to India" (which landed him an interview in the March 25 Mumbai Sunday Mid-Day, pg 38-39) and Osamu Tezuka's "Adolf".
All this, plus the announcement of the winning "what do you like about Deconstructing Comics" entry!
Podcast: Play in new window | Download