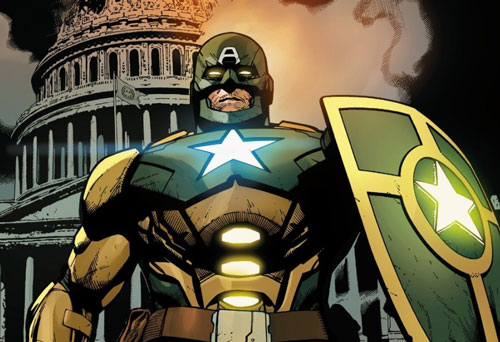 As leader of S.H.I.E.L.D., Captain America has been put in charge of the U.S. military and law enforcement (and, seemingly, become president of the U.S.) following an alien invasion. But he then reveals that he's also the leader of Hydra, and the evil organization quickly takes over the country. In this episode, Tim and guests Joe and Kendall (from the Wayne Manor Memoirs podcast) complete last week's discussion with a walk through the Nick Spencer-penned Marvel crossover event Secret Empire!
Vulture.com on the Hydra Cap controversy
Polygon.com: Was Secret Empire worth it?
CBR: Why Kobik didn't undo the casualties
CBR: Yes, Secret Empire was worth it
ScreenRant.com: Did fan reaction affect the ending?
ScreenRant.com: How Secret Empire should have ended
Podcast: Play in new window | Download
Subscribe: RSS