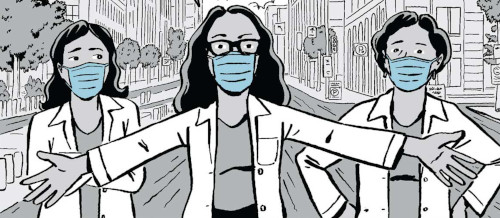 There have been plenty of comics made about the current COVID-19 pandemic, both instructional and autobiographical ones. In this episode Tim talks about about some of these with graphic medicine expert Alice Jaggers, a contributor to graphicmedicine.org, as well as other comics on health issues… one of which is none other than Fullmetal Alchemist!
The Lancet on COVID-19 and comics
Then, a talk with comics journalist Josh Neufeld, who recently did a piece called A Tale of Two Pandemics, exploring the myth that black people are immune to many illnesses. This idea popped up during both the 1918 flu pandemic and the current pandemic. Josh also talks about his comics journalism career and the experience of working with Harvey Pekar!
Josh's story Supply Chain Superhero
We first met Josh at MOCCA 2016!
Help Tim move away from the apartment he's allergic to
Podcast: Play in new window | Download