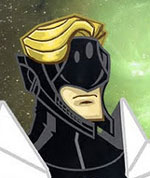 Tom Rasch is working on a comic, animated cartoon, and toy line for his property Black Alpha.
Billy Hogan, a fellow comics podcaster, is drawing a comic called Slipstream for the new site Clockwork Comics.
Jeffrey Taylor is writing Slipstream, plus podcasting at supermanhomepage.com, and he's got an actual paying gig writing about Superman!
Tim interviews all three.
Podcast: Play in new window | Download
Subscribe: RSS