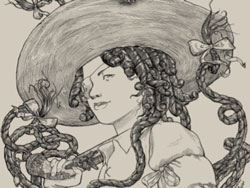 Waaay back in episode 250, Tim talked to Thomas Negovan about the Kickstarter project for a comic called Cursed Pirate Girl. Negovan was the publisher of the single issues of the series, and was handling media inquiries while the comic's creator, Jeremy Bastian, put all his time into the comic's insanely detailed art.
The first three issues are now out in a fancy hardcover from Archaia, and this time Jeremy himself comes on the show to talk to Tim about what's happened since the successful 2010 Kickstarter project, and what to expect from here.
Plus, Tim and Brandon review the book!
Podcast: Play in new window | Download
Subscribe: RSS