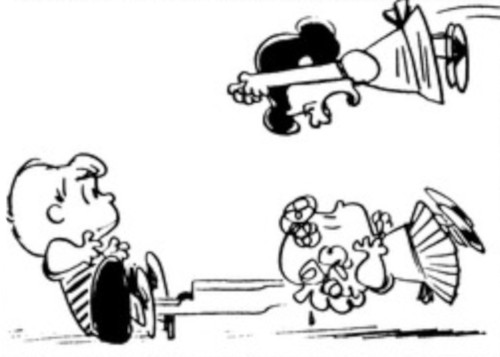 Charles Schulz's Peanuts is a master class in how to do a comic strip. This week Kumar and Tim are focusing on a five-year period of Schulz's career, 1957 to 1961, and 25 Sunday strips that demonstrate Schulz's skill at dialog-free comics. You might want to read the strips before listening; see below!
Brought to you by:
Snoopy and Linus
2/10/57 Snoopy waiting for Linus to share a candy bar with him
6/30/57 blowing on each other
9/15/57 Snoopy grabs the blanket while Linus is holding it and swings him around by it
11/24/57 Snoopy again grabs the blanket and heads into his doghouse
7/13/58 Linus, chased by Snoopy, throws his blanket into an open window
8/24/58 another blanket battle
12/14/58 Snoopy drags Linus – and debris
7/26/59 Snoopy, Linus, and blanket go crashing into the doghouse, which rolls down a hill and crashes into a tree
6/12/60 Charlie Brown sees something spinning around right next to him that turns out to be Linus and Snoopy fighting over the blanket
11/27/60 Linus uses the blanket to spin Snoopy like a top
Characters facing adversity
2/9/58 Linus takes his sled up a hill, then realizes there's a tree in his way
6/22/58 Snoopy blocks both CB's TV viewing and his radio listening
6/29/58 Linus wipes out on the rocking horse
8/31/58 Lucy and musical teddy bear
1/4/59 Snoopy slides around on ice until he's run over by a bunch of hockey players — very Minnesota!
1/18/59 Lucy fails at throwing a snowball at Charlie Brown, so she kicks him
4/16/61 Lucy's Rival
11/26/61 Snoopy in the rain
Cute vignettes
2/3/57 Charlie Brown sliding on ice
5/12/57 Linus hangs his blanket on a nail temporarily so he can catch a baseball — barehanded??
8/11/57 Charlie Brown takes his sleeping bag outside
12/1/57 Snoopy on top of the TV
4/26/59 Lucy catapults a rock into Linus' sand castle — Lucy in a nutshell
10/18/59 Sally's bottle on Schroeder's piano
6/18/61 Snoopy gets all the glory
Podcast: Play in new window | Download