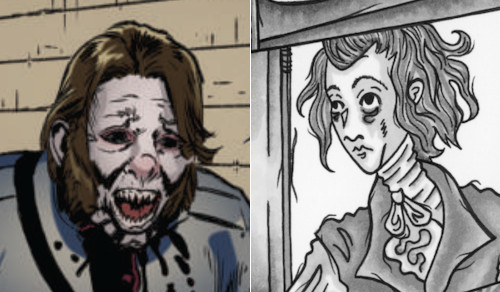 This week, a Critiquing Comics double feature:
During the U.S. Civil War, a confederate soldier is changed into a dangerous creature by a mysterious woman. His comrade, now a marshal, tracks him after the war as he takes more innocent victims. But is everything as it appears? Tim and Jason enjoy the twist in Rougarou, by Giles Clark and Jose Rondon.
Our second entry takes us further back in history, to 1790, when poet-painter William Blake claims to have met a horrific lizardlike creature, the Ghost of a Flea. GE Gallas' The Poet and the Flea presents a take on Blake's work and experiences. Emmet joins Tim to school all of us in Blake. What kind of image does it give us of Blake, and is it accurate? And, is this comic of interest to non-Blake fans?
Everyone is Tulip got an Eisner nomination! Hear our review and creator interview here.
Noel Fielding: Ghost of a Flea's birthday song
Brought to you by:
Podcast: Play in new window | Download