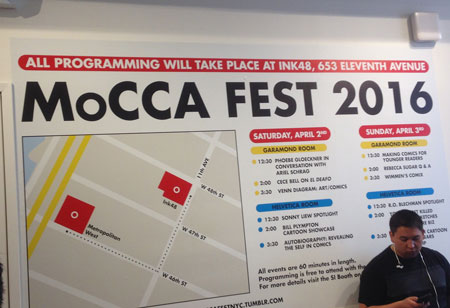 MoCCA Festival, presented by the Society of Illustrators and the Museum of Comic and Cartoon Art, was held at Metropolitan West in New York City on April 2 and 3. This week, the tablers Tim talked with on the second day.
Also, excerpts from a panel discussion called "Autobiography: Revealing the Self in Comics." The panel was moderated by Heidi MacDonald (The Beat) and featured Gabrielle Bell (Truth is Fragmentary), Nicole Georges (Calling Dr. Laura), Jennifer Hayden (The Story of My Tits), and Gina Wynbrandt (Someone Please Have Sex With Me).
Click on "Continue reading this Post" to see photos of everyone in this episode.
Podcast: Play in new window | Download
Subscribe: RSS
1:10
Kristen Rosa

Kristen Rosa

3:18
Bob Glasscock
Bob Glasscock
4:11
Maelle Doliveux
Lior Zaltzman
Lior Zaltzman and Maelle Doliveux
8:19
Carolyn Nowak

Carolyn Nowak

10:15
Pronto Comics (Dominick Sparano)
Dominick Sparano (r) of Pronto Comics
11:55
Ellen Lindner
Ellen Lindner
14:13
Nobrow Press (Tucker Stone)Flying Eye Books
Tucker Stone of Nobrow Press
17:56
Mindy Indy
Mindy Indy
19:35
Sonny Liew
Sonny Liew
21:34
Caitlyn Scannell
Caitlyn Scannell
22:51
Eric Davies
Eric Davies
24:35
Locust Moon Press (Josh O'Neil)
Josh O'Neil of Locust Moon PressBelow, their 16″x21″ Little Nemo, Dream Another Dream

27:18
Birdcage Bottom Books (JT Yost)
JT Yost of Birdcage Bottom Books
31:48
Mariana Julia and E Jackson
Mariana Julia and E Jackson
36:06
Autobiography: Revealing the Self in Comics
Nicole Georges

Jennifer Hayden

Gina Wynbrandt

Gabrielle Bell