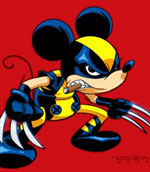 Disney buys Marvel? Yeah, OK. Macintosh owners Tim, Patrik W, and Mulele discuss the Steve Jobs connection — could this lead to X-men on your iPhone?
If someone said, "What are these 'comics' of which you speak? I would like to try some," what would you hand them? Watchmen? Why not? What might be a better choice?
How are Japanese attitudes toward comics different from those of Americans? Patrik has some interesting insights.
Patrik talks about the comics art exhibition he's organizing. Also, what we've been reading.
Podcast: Play in new window | Download