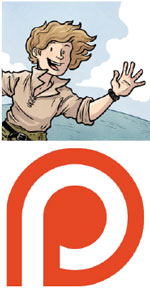 This week a look at how creators can cultivate their following into a means of paying (some of) the bills.
Comics artist Lucy Bellwood has a pretty succesful Patreon page; it's paying her Portland rent. Her fans appreciate her work, but often that's not quite enough; showing your personality, making a personal connection, can get them to buy in on a deeper level. Lucy talks to Tim about what she's done to cultivate her following of fans/patrons.
Then Tim is joined by Taryn Arnold, Community Happiness Representative at Patreon, to talk about how Patreon works, the background of the site, and what they're doing to solve some problems that have arisen — including (as referred to on this podcast more than once) kamikaze patrons who pledge, download all the free content, and unpledge without making any payments.
Pledge at least $3.00 a month to Deconstructing Comics on Patreon and hear Lucy talk about some frustrating, and also rather amazing, experiences she had with freelancing, and on why she got stressed out when she guested on someone else's web comic!
(If you'd like to know more about using Patreon yourself, here's some info.)
Podcast: Play in new window | Download
Subscribe: RSS