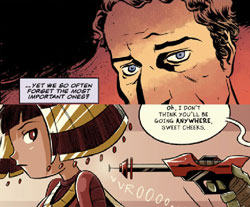 A double-header episode this week!
First, Tim and Brandon discuss Fabio Moon and Gabriel Ba's Daytripper. No, it's not a time travel story (is it a story at all?); it's a reflection on life and death. Is it fantastic, or trite? Depends on your point of view…
Then, Tim talks to Mike Maihack, the talented creator behind Cleopatra in Space, about motion lines, Web comics as a business, and more.
Podcast: Play in new window | Download