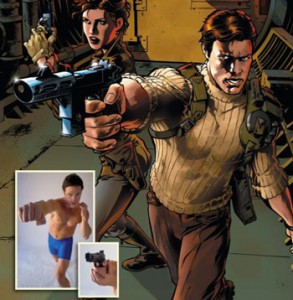 Most comics artists use photo reference at some point. But some artists can make it melt into their work fluidly, while others end up with stiff drawing or a glorified fumetti. They might also end up with a copyright lawsuit if they don't choose their reference wisely.
One source of photo reference is Buddy Scalera, who has published several reference books, including Comic Artist's Essential Photo Reference: People and Poses. Buddy joins Tim to talk about how he got into making photo reference books, choosing poses to shoot, and more.
Then, Stephen Bissette joins us with plenty of examples of the use and misuse of photo reference, the ups and downs of casting celebrities as your characters (Sting, anyone?), and more.
Podcast: Play in new window | Download
Subscribe: RSS