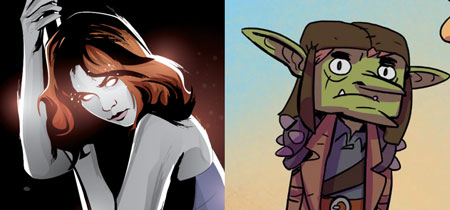 Julia finds that, when she reaches sexual climax, men die. Off Girl, by Tina Fine and Mark Reihill, chronicles her quest for a non-lethal lay, to understand what is causing this problem, and (we're told) become a superhero. But some storytelling problems are keeping us from getting off on this comic…
Dank, the goblin, flunks out of assassin school, answers an ad for an assassin, and is hired to be… a thief (although one who kills a lot). Rene Pfitzner's Sneaky Goblins is well-drawn and interesting, but can we sympathize with the main character?
Tim and Mulele discuss both. And, will Tim catch up on the MCU?
Podcast: Play in new window | Download