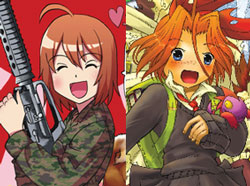 This week, Tim talks with two women who are mixing Japanese and Western influences in their comics!
First, Ana Moreno, former US Marine and writer of Marine Corps Yumi, drawn in a gag-manga style by Takeshi Nogami. A gag manga about joining the Marines?! (available in both English and Japanese)
Then, Aussie Madeleine Rosca, creator of Hollow Fields (reviewed on last week's show). Why does her work read right to left? Does she get any guff from readers about imitating a Japanese style? Also, the art of revealing neither too many nor too few secrets as your story moves forward, and more.