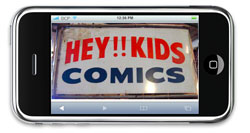 Comics are increasingly read as bits and bytes, on PCs and handheld devices.
Blank creators Brothers of the Silence are publishing the comic in Flash on their site, and as image files on Facebook and several other sites. "Brothers" Ian LeWinter and Don Richmond talk about creating the comic and promoting it via social media sites.
Dale Wilson of DWAP Productions, making his second appearance on this podcast, discusses the ways his company is getting its traditional paper product out in handheld device formats.
Remember "Yon Kuma"? Tim and Mulele reviewed it a year ago. It's now called "Bear Beater Bunyan," and it's an iPhone app. Artist Jorge Munoz talks about the path he and writer Josh Hechinger followed in making the comic available for handhelds.
"Bear Beater Bunyan" is just one of many comics available from Robotcomics.net. Robot Comics Deputy Director Dave Baxter fills us in on the state of the growing comics market for handhelds and how Robot does what it does.
Finally, Tim and Mulele review some of Robot's output.
Podcast: Play in new window | Download
Subscribe: RSS