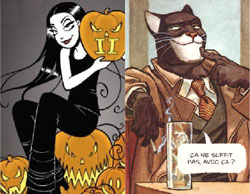 In more than seven years of doing this podcast, our coverage of European comics has been, um… underwhelming. This week, Tim tries to change that, discussing two European comics with European co-reviewers!
First, Nemi, the overzealous goth girl from Norway, whose eponymous strip by Lise Myhre has become popular in numerous European countries. Norwegian Line Olsson (of the Boston Comics Roundtable) joins Tim to discuss.
Then, the second Blacksad installment, "Arctic Nation", by animators Juan Diaz Canales and Juanjo Guarnido. Is racism the point of this noirish "furry" tale, or is it just the framing device for something else? Eugenia Koumaki in Athens co-reviews with Tim.
Podcast: Play in new window | Download