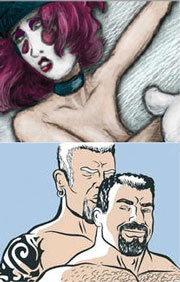 As long as there has been erotic reading material, there have been people trying to make it harder to find. We might have expected that the brave new world of the Internet was going to make everything accessible to everyone whenever they wanted it, but as it becomes more controlled by certain big corporations, the situation has become more complicated. Our friends John Roberson and Dale Lazarov have both found that they seem to have more trouble with digital versions of their erotic (or even just semi-erotic) work getting pulled from digital comics stores than they've had with the print versions of their work!
So this week we hear from both of them about the issues they've faced, and then for the big picture, we'll consult British author Tim Pilcher, whose two-volume history of erotic comics includes the work of both John and Dale! Tim discusses the ongoing problems for erotic comics in digital distribution, including seemingly capricious and inconsistent removals of some erotic works; the limitations to what the Comic Book Legal Defense Fund can do; and what both creators AND fans of these works can do to keep them available!
See below for Tim Pilcher's BBC appearance discussing the child pornography law in Japan.
Podcast: Play in new window | Download
BBC World News: Should Japan's anti-pornography laws include Manga and Anime? from Jamsheda on Vimeo.