by Kory Cerjak
Title: Vinland Saga
Author: Makoto Yukimura
Publisher: Kodansha USA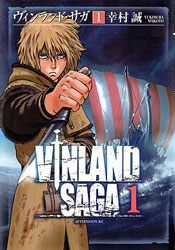 Vinland Saga is an epic history story on the level of Koike and Kojima's Lone Wolf and Cub or Ryoko Ikeda's Rose of Versailles. Written by Makoto Yukimura of Planetes fame, this manga delivers an exciting story that has kept me on the edge of my seat through the first omnibus.
First published in Weekly Shonen Magazine by Kodansha, Vinland Saga was moved to Afternoon, a monthly magazine. After making the space story that is Planetes, Yukimura took about a year off, likely researching Vinland Saga's history, before he returned in 2005 with the comic.
Kodansha USA's publication is absolutely beautiful. It's an omnibus of the first two volumes in an amazing hardcover with five glossy color pages at the beginning. The book is also a little bigger than most of your typical manga—about a half inch or an inch larger—and the text is larger and so easy to read as a result. As far as books I own, this Vinland Saga book is second only to Viz's Nausicaa hardcovers.
In the first two chapters, we get such an amazing sense of character agency from the main character Thorfinn that those perfectly placed flashback chapters mean so much more for the audience than they would in lesser hands. We know that he wants revenge Continue reading "Vinland Saga" Omnibus 1 beautifully drawn, written, packaged