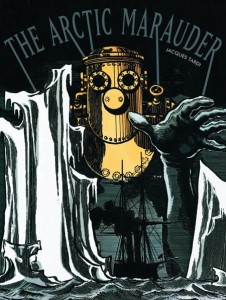 Jacques Tardi writer and artist.
Fantagraphics Books, 2011.
This is a 64 page graphic novel that collects material that Tardi originally created and released in 1972 with the French title Le Démon des glaces. It was translated and released in early 2011.
The first thing an interested reader encountering this volume in a bookstore or library will notice is the art. Tardi's draftsmanship is truly a wonderful thing to behold and this book features his work with scratchboard. This medium allows for a woodcut effect with an added dimension of shading and depth applied to the art and allows texture and shadow to be applied to the image. The result is a classic text illustration effect that pairs well with the Jules Verne/H. G. Wells inspired story.
Continue reading REVIEW: The Arctic Marauder by Jacques Tardi