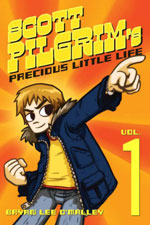 FLASHBACK!  Tim and Brandon review of two Canadian coming-of-age comics: The first three volumes of Bryan Lee O'Malley's "Scott Pilgrim" series, and "Paul Has a Summer Job" by Michel Rabagliati.
Listen carefully, because later this month, Tim and Cassey will discuss the entire series, and Tim's take on it has changed…
ALSO: Give today to the Deconstructing Comics pledge drive!
Originally published June 2, 2008
Podcast: Play in new window | Download
Subscribe: RSS