By Kory Cerjak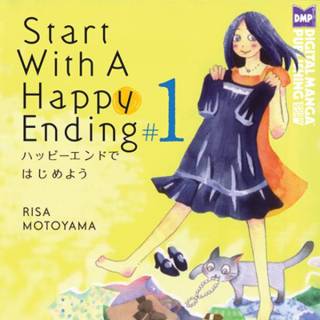 Title: Start With A Happy Ending
Author: Risa Motoyama
Publisher: Digital Manga Publishing
Start With A Happy Ending is a bit of a strange book. It's put out by Digital Manga Publishing, which obviously publishes almost exclusively digital comics. But I'm pretty glad they put out a physical copy of this book. The comic is written by Risa Motoyama, but I'm unable to find much of any information on her. The website is in Japanese (which I don't know) and the Google Translate version is, of course, hilarious and not very helpful. From what I can garner, she's simply a cartoonist and, according to Anime News Network, she's done no other manga aside from Start With A Happy Ending.
Originally published in Monthly Manga Time Jumbo by Houbunsha, the comic is a series of one-off stories about people who are reincarnated as cats, but only for one week. You see, the cat god brings them back soon after they died and gives them one week to settle any unfinished business they had in their human life.
Each of these stories is pretty touching and each one includes something about regrets in life. It revolves around how you will be reincarnated and how your previous life affects that. For example, in the first story, the character never got to confess to the guy she loved. When she came back as a cat, she was able to go to him and, in her eyes, confess that love.
In the afterward, Motoyama explains how each of the characters' stories can't be told from birth to death, but rather from a certain point in their life to the end of the story (in this case, death – but usually not). Through that, their past must be explained in enough detail to understand the story, and Motoyama does this wonderfully. While chapters are sometimes forgettable, they're sweet and I know everything I need to know without unnecessary exposition or flashback.
The artwork in the comic is really cute, if not spectacular. The designs are simple, but tell the story well enough. Since the stories are so simple and flighty, I don't think it's necessary to have overly complicated artwork like in Kare Kano or MPD Psycho.
Overall, the book is a nice Sunday afternoon read, but fails to be much else. Perhaps if Motoyama focused on each story for twice as long (they're each about 15 pages as it is), it would have had a bigger impact on me. Regardless, it's a great read and fun to pick up as a distraction if nothing else.
Start With A Happy Ending is readily available at any of your retailers. I found it on Amazon for $11, and it's also on digitalmanga.com as well as emanga.com.