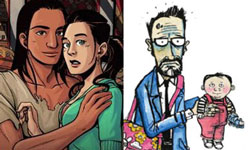 An experiment with magic brings a mummy to life! And… wow, is he a hunk! Dan Jolley and our friend Natalie Nourigat bring us Wrapped Up in You!
John is 40, in his second marriage, and still dealing with the fallout from the first, especially where his daughters are concerned. With a baby and two cats, he's dealing with a lot of, er, poop — both literally and figuratively. Will he keep it together, or is that cute singer going to tempt him to mess up his life more? It's Joe Ollmann's Mid-Life!
Tim and Brandon discuss both books this week.
Podcast: Play in new window | Download
Subscribe: RSS