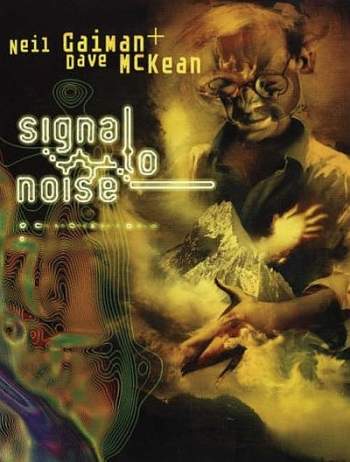 Written by Neil Gaiman
Art by Dave McKean
Dark Horse Comics, 2007 (New Edition)
Originally serialized in a magazine called The Face (United Kingdom) and collected into a single volume in 1992, this book represents some early usage of digital manipulation, photographic collage and highly expressionistic Dave McKean artwork. Dave McKean has an ability to use a Canon laser photocopier the way many traditional illustrators use pen and ink.
The narrative is essentially about millenarianism. Being written a decade before the year 2000, this book was also accurate in its predictions about how the millennium would result in the changing of more or less nothing. The presaged view of the ten years in the future may not be the most exciting depiction of pre-millennium tension that I have ever read, but after the fact and with the element of hindsight it is probably one of the most accurate. Unlike other works which tie into the Y2K cultural experience, this book manages to transcend such a time-dependent experience to capture the feeling of impending futurism mixed with dread and presents the more rational, grounded view which we experience with our mundane memories of that millennium event.
The main character is a film director with a terminal illness. Having being given only a few months to live, he begins work on a script for a new film that deals with the turning of the millennium in 999 AD. This director explores his feeling about his impending death through the larger concept of apocalyptic visions and eschatology. Gaiman frames this with sparing quotes from the Book of Revelation and anthropological musings about Melanesian cargo cults.
Gaiman uses an interestingly restrained prose style that interjects short lines and paragraphs of musings to represent the motivations behind the thoughts of the director, combined with some creative visuals by McKean. McKean provides an abstract background for Gaiman's sparse text in such a way that direct dialogue is replaced with bounded commentary that evokes the contemplative nature of a man who knows that he is dying but decides to put his efforts into one final creative act.
Unfortunately, I did notice a typo error. Small thing, but when the text is an integral part of the art you notice it a little more.
This book is a short but pleasurable read. The high level of visual and textual experimentation going on here is not difficult to the reader, but still provides an intelligent challenge to expectations for the sequential form. The story is moving and still captures characters and makes you care about them despite the shortness of the tale and the eschewing of sustained dialog.