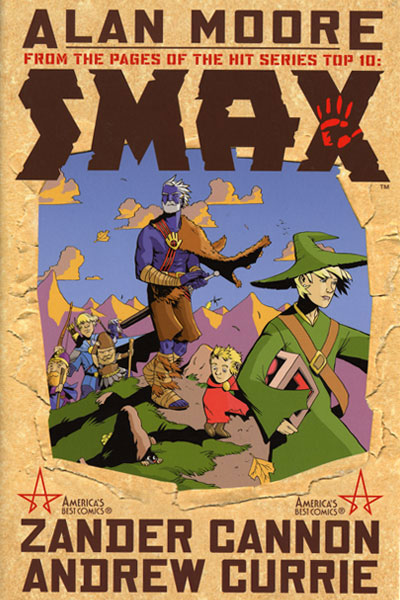 Writer: Alan Moore, Penciller: Zander Cannon, Inker: Andrew Cannon
America's Best Comics, 2004.
This trade paperback collects issues #1-#5 of the miniseries Smax, which was spun out of the Alan Moore created Top 10 series. The story follows the character of Jeff from the Top 10 police force, who returns to his home world/dimension to attend a funeral. Robyn accompanies him and Jeff tries to pass her off as his wife. Robyn is none too happy about this, and it is a waste because no one really believes Jeff. It seems that Jeff is a bad liar and he didn't even go to the trouble of securing fake wedding bands. It seems that Jeff is really scared that he will hook up (sexually) with his twin sister Rexa.
Moore approaches Jeff's home world with a humor that is reminiscent of Terry Pratchett.  The series does defiantly compare with the magical realism found in the Discworld novels.  The world is a spoof on the fantasy genre but Moore incorporates some real cutting satire. Jeff's recounting of his ogre father's abuse to him (physical) and his sister (physical and sexual) keeps the story from being a light and airy satire of Dungeon and Dragons campaign cliques though. There is a dark side to the relationship between Jeff and Rexa that involves their disturbing prior incestuous couplings.